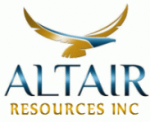 VANCOUVER, BRITISH COLUMBIA -- (Marketwired) -- 02/07/17 -- ALTAIR RESOURCES INC. ("Altair" or the "Company") (TSX VENTURE: AVX)(FRANKFURT: 90A)(ISIN: CA02137W1014)(WKN: A2ALMP) - Mr. Harold (Roy) Shipes, President and Chief Operating Officer of Altair Resources Inc., yesterday announced the sudden and tragic passing of Mr. John Huguet, Chairman and Chief Executive Officer of Altair Resources. Said Mr. Shipes, "With Mr. Huguet's passing, the Company lost one of the finest mining executives and a genuine leader and consummate gentleman. John will be missed as his passing is a loss and again I want to pass on my condolences to John's family."
The Board has now appointed Mr. Shipes as Chief Executive Officer of the Company and will work to continue the acquisition, exploration and development programs initiated by Mr. Huguet without interruption and with the assistance of the Company's Board, Advisory Board and extremely capable staff. Mr. Shipes is a metallurgical and mining engineer who brings a wealth of experience, global perspective and keen sense of shareholder value to the board of Altair Resources. Mr. Shipes has 44 years mining experience in senior positions in base and precious metals production, engineering, and project development management around the world. Mr. Shipes has extensive experience in acquisition and development of projects in the United States, Canada, Peru, Papua New Guinea, Australia, Honduras, Bolivia, Ireland, Mexico and Venezuela. He has served as vice-president and general manager of operations of Southern Peru Copper Corp., one of the largest copper producers in the world, and as chief executive officer and general manager of Ok Tedi Mining Ltd., where he developed one of the largest copper mines in the world.
Mr. Shipes added: "I would like to express my thanks to the Board for this appointment and will work to continue with John's vision for the Company and I look forward to the challenge."
ON BEHALF OF THE BOARD,
Harold Shipes, President & CEO
Neither TSX Venture Exchange nor its Regulation Services Provider (as that term is defined in the policies of the TSX Venture Exchange) accepts responsibility for the adequacy or accuracy of this release.
Contacts:
Altair Resources Inc.
604-685-9316
604-683-1585 (FAX)