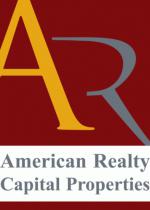 NEW YORK, Nov. 5, 2013 /PRNewswire/ -- American Realty Capital Properties, Inc. (NASDAQ: ARCP) ("ARCP") today announced the closing of the previously announced acquisition of CapLease, Inc. (NYSE: LSE) ("CapLease").  The transaction was previously approved by CapLease's stockholders, whose shares were converted into the right to receive $8.50 in cash per common share of CapLease they owned.  Each share of Series A, Series B and Series C preferred stock of CapLease was converted into the right to receive $25.00 in cash.
In connection with the closing, ARCP adds a portfolio, as of September 30, 2013, consisting of 68 primarily single tenant net lease office and distribution properties with more than 13 million square feet.  The CapLease portfolio is approximately 97% occupied by 80% investment grade tenants.
As a result of the acquisition, as previously announced ARCP will increase its annualized dividend by $0.03, or 3.3%, to $0.94 per common share to be paid monthly to stockholders of record at the close of business on the 8th day of each month, payable on the 15th day of such month.  The $0.94 annualized dividend will be paid commencing with ARCP's December 2013 dividend.
As previously announced, Paul H. McDowell, Chief Executive Officer of CapLease, will join ARC Advisory Services, LLC, a subsidiary of AR Capital, LLC ("AR Capital"), as President of AR Capital's office and industrial division, including build-to-suit activities.  Several other senior CapLease executives will also join AR Capital's advisory platform in senior finance and operating roles.
ARCP Chairman and Chief Executive Officer Nicholas S. Schorsch noted, "We are pleased to close this significant acquisition, which expands and diversifies our rental revenue base and adds to our growth opportunities through build-to-suit capabilities.  In addition, the acquisition increases our adjusted funds from operations per share, resulting in a $0.03 increase in our annualized distribution."
Michael Weil, ARCP's President, noted, "We continue to be focused on the deliberate and consistent execution of our investment strategy.  This includes our successful closing of the CapLease acquisition, as well as our other announced acquisitions which remain on track to close."
Mr. Schorsch added, "We are extremely pleased to welcome Paul McDowell and the entire CapLease team to AR Capital.  Recruiting and retaining world-class talent to support our platform's growth is one of my highest priorities and the addition of Paul and his executive, operating and administrative team is yet another example of our ability to do so."
About ARCP
ARCP is a publicly traded Maryland corporation listed on The NASDAQ Global Select Market that qualified as a real estate investment trust for U.S. federal income tax purposes beginning in the taxable year ended December 31, 2011, focused on acquiring and owning single tenant freestanding commercial properties subject to net leases with high credit quality tenants. Additional information about the ARCP can be found on its website at www.arcpreit.com. ARCP may disseminate important information regarding ARCP and its operations, including financial information, through social media platforms such as Twitter, Facebook and LinkedIn.
Important Notice
The statements in this press release that are not historical facts may be forward-looking statements. These forward-looking statements involve risks and uncertainties that could cause the outcome to be materially different. In addition, words such as "anticipate," "believe," "expect" and "intend" indicate a forward-looking statement, although not all forward-looking statements include these words.
SOURCE American Realty Capital Properties, Inc.