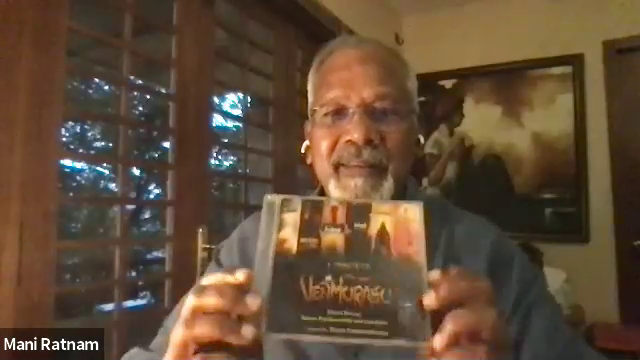 "This is probably the first time ever that a movie and a musical album are being released to honor a novel," said renowned Indian filmmaker Mani Ratnam, on launching the musical tribute to Venmurasu in a live streamed virtual event attended by thousands across the globe. He also added that the speed with which Jeyamohan wrote this novel which has no parallels, is unbelievable. Venmurasu is a Tamil novel of epic proportions, spanning 26 volumes and 26,000 pages. Jeyamohan started writing Venmurasu in 2014 and finished it in 2020, thus creating the longest novel ever written. "This initiative breaks all boundaries," said the renowned director.
The musical tribute by Composer Rajan Somasundaram is part of the documentary titled A Tribute to Venmurasu, directed by Austin Soundar and edited by award winner Appu N Bhattathiri. It has writers, poets, directors, actors, musicians, and readers coming together to celebrate the successful completion of Venmurasu, highlighting aspects of the novel and discussing salient features that make it a cultural treasure. The music includes a stirring piece composed as the theme music for the epic and a song whose lyrics were compiled using lines from one of the novels in the series, chosen for their lyrical beauty and profound spiritual depth. This song features legendary actor Kamal Haasan, a German Brass band, North Carolina based String musicians, Sriram Parthasarathy, Saindhavi Prakash and the composer himself.
Speaking on the occasion, Toronto based writer A Muttulingam appreciated how poetry and music beautifully blend to produce a magical tribute to Venmurasu. Writer Nanjil Nadan spoke about the total number of words used in Venmurasu, including the many newly coined words used effectively. He requested that a glossary of words used in Venmurasu be made at the earliest.
More info: https://youtu.be/XWkDEyiS16I
Over the seven-year period of its writing, Venmurasu was published online in a-chapter-a-day format and Director Vasanthabalan reminisced about the many days he stayed up until 12 midnight to read the freshly published chapters. He lauded Venmurasu for elevating the 'experience of life' from a daily mundane routine to something epic and called it a pinnacle of artistic achievement. He also acclaimed Rajan Somasundaram's deft use of various instruments and musicians to add specific flavors to the musical tribute and remarked on the movie industry's loss for missing out on using a music composer of Rajan Somasundaram's caliber.
Music critique Venu Thayanithy shared a detailed critique on the musical tribute and highlighted many aspects of its arrangement. He pointed out that the composition 'Shades of Blue' has redefined the Raga Gowri Manohari upon comparison with all existing compositions in this Raga including classical and non-classical pieces, by exploring various possibilities in expression. On the epic theme music, he specifically highlighted how layers and layers of music on brass, strings, and percussion go on different time signatures, all threads eventually converging into one grand narrative much like the novel Venmurasu does. He also noted how the epic theme music flowed in five sections, representing five pivotal epochs in the novel. Documentary filmmaker Ravi Subramanian highlighted how listening to the song shades of blue gave him many goosebump moments.
Singer Saindhavi spoke about her experience of singing parts of the musical tribute. She recalled that the lyrics she vocalized about Baby Krishna rang close to heart, having had her baby just a couple of months before recording, sweeping her away in the warm feeling of motherhood. Sitarist Rishabh Sharma shared his experience of recording the intricate Sitar segments in a New York studio.  
Composer Rajan spoke in detail about his experience of composing the musical tribute to Venmurasu. "It's an intriguing challenge to compose a tribute to a masterpiece like Venmurasu. There are layers and layers of stories interwoven with a lot of cultural references and historical details. The inspiration to do that came from Venmurasu itself," said Rajan. 
Austin Soundar who was also present during the event anchored by Rajagopalan, said that the movie has been screened in 11 cities in the US and Canada and is expected to be released soon in India, once the covid restrictions are lifted.
Media Contact
Company Name: Vishnupuram Literary Circle
Contact Person: Support
Email: Send Email
Country: United States
Website: https://youtu.be/XWkDEyiS16I