MOBI is a well-known name in wifi baby monitors, and now this consumer-requested kit combines its HD pan and tilt baby camera with other smart home features.
(PRUnderground) September 30th, 2020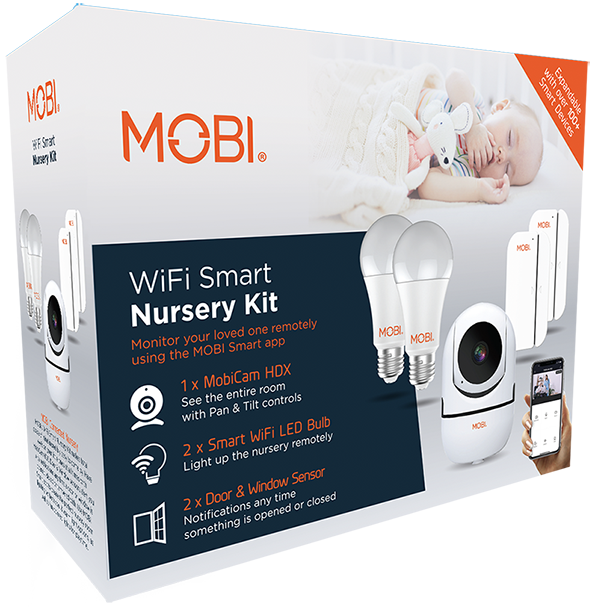 Built around the bestselling MobiCam HDX wifi baby monitor, the MOBI Smart Nursery Baby Monitoring Kit also includes useful crib or nursery door sensors and color-changing LED bulbs for perfect room illumination and danger alerts – all controllable from a new app and compatible with most smart home products.
Consumers can use this smart nursery kit to set up scenes and automations so that nursery lighting enhances the mood or warns of danger. A wide range of settings are possible: Turn on included MOBI smart LED bulbs when it is cloudy or dark, for example. Choose to have lights flash red when the crib door has been mistakenly left open.
Smart actions are possible because of the included two MOBI Smart WiFi LED Bulbs and two MOBI Smart WiFi Door & Window Sensors. The bulbs provide a range of colors and brightness levels while the sensors offer real-time notifications and alarm when a protected door or window is opened or closed.
The heart of this smart nursery kit is the MobiCam HDX wifi pan and tilt video baby monitor for HD nursery views from any smart phone. Additionally, authorized users can listen and talk back with crystal-clear audio. Remarkable 40-foot night vision ability is perfect for checking on the baby without disturbing its sleep.
All of the components of this kit can be controlled with the MOBI Smart app, a significant improvement from the previous app. The components are also designed to work with Google, Alexa and most other TUYA-compatible products and controllers.
"It's an exciting time at MOBI because the innovations just keep coming. In addition to our new sensors and color-changing LED light bulbs included in this smart nursery kit, we're also very excited about our new app, which is miles ahead of the old one," said David Naghi, MOBI CEO. "Now, our baby cameras are easier to use than ever before and compatible with a wide range of other smart home products."
The MOBI Smart Nursery Baby Monitoring Kit is available online and in-store at Walmart and was featured during September's Best of Baby Month. Individually packaged MOBI baby cameras, digital thermometers and other products are available at Walmart too.
MOBI is a proud California company that is approaching two decades of experience in satisfying consumers with products that meet needs and improve homes, including wifi baby monitors and other smart home products. For consumers who insist on excellence, MOBI is an innovative company that's always here and always getting even better.
About MOBI Technologies
MOBI is a provider of home health technology products including but not limited to: thermometers, cameras, blood pressure monitors, door sensors and other consumer and enterprise solutions. Lead by founder and CEO David Naghi, who has more than 35 years' experience in the consumer electronics industry, MOBI is committed to bringing products to the marketplace that give you and your family better, smarter choices. For more information, please see www.getmobi.com
The post Door Sensors And Color-Changing LED Bulbs Make MOBI Smart Nursery Baby Monitoring Kit A Must-Have first appeared on PRUnderground.
Press Contact
Name: Lizzie Gurrola

Phone: 323-904-3014

Email: Contact Us

Website: https://www.getmobi.com
Original Press Release.