The Supreme Court may gut the Affordable Care Act. What's next?
September 25, 2020 at 10:16 AM EDT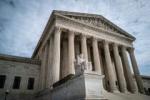 The Supreme Court is expected to hear oral arguments in November in a case against the Affordable Care Act, also known as Obamacare. The decade-old law may not survive, which would mean less coverage, higher costs and eroded protections for many Americans.