Will a Trillion Dollar Stimulus Help Japan's Economy Bounce Back?
April 14, 2020 at 11:02 AM EDT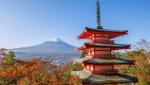 Japanese leadership, mainly Prime Minister Shinzo Abe, is feeling the pressure from the country amid the coronavirus pandemic. Criticized for a less-than-stellar response to the virus, leadership has responded with a $1 trillion stimulus package, but is it enough to allow the country to bounce...