Is It Time To Buy Stocks After The Middle East Attack?
January 03, 2020 at 14:55 PM EST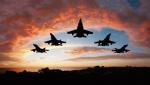 U.S. markets were roiled in overnight trading and into Friday after President Donald Trump stunned investors with an American airstrike that killed Iran's top military general. But rather than generate a buying opportunity in this potentially overbought bull market, at least one analyst suggests...