5D Artist is an arts and crafts retailer based out of Las Vegas, Nevada. They sell art kits for diamond painting, scratch art, and paint-by-numbers.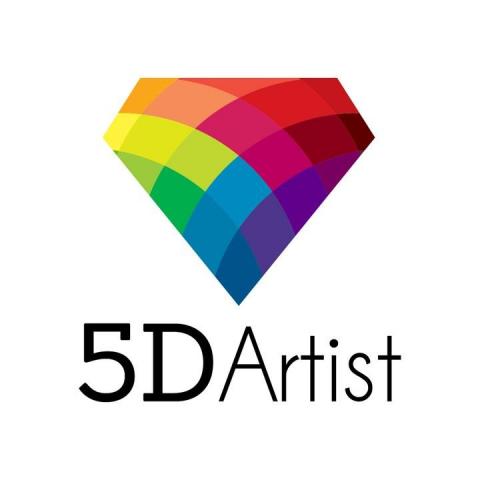 Las Vegas, United States - October 25, 2019 /NewsNetwork/ —
Las Vegas, Nevada— Arts and crafts company 5D Artist is selling DIY diamond painting kits that promote relaxation and fun through creativity and art. With the new hype around this craft, the company has responded to customer demands by releasing several new kits to their extensive collection.
According to 5D Artist's website, diamond painting is akin to "paint by numbers, but instead of paint, it uses tiny diamond-like resin rhinestones." Craft makers apply these colored rhinestones to the canvas using a pen-like tool. Once all boxes on the canvas are filled in with the corresponding diamonds, the finished result is a 3-dimensional "painting" of the image on the canvas. The finished artwork can then be framed, hung on a wall, used on a pillow as decoration, given to friends or family, and more.
The new kits from 5D Artist come in several "collections" ranging from nature and animals to cars, fantasy, famous people, and more. Customers can even recreate classic masterpieces like Starry Night by Vincent van Gogh, or Leonardo da Vinci's Mona Lisa, using the diamond painting technique. 5D Artist's diamond painting kits come with a color-coded canvas with pre-applied adhesive, application tools, colored "diamonds," and instructions. The kits provide everything craft makers need to create a shining work of art.
A notable benefit of diamond painting is that it is simple, and the instructions are easy to understand for those who have little or no art experience. Reviews for diamond painting kits from 5D Artist are predominantly 5 stars, with customers stating how much they enjoy this peaceful and relaxing activity that results in a great finished product. These diamond painting kits appeal mainly to those who have an interest in arts and crafts but do not necessarily have extensive experience creating art. They also attract people who want a stress-free art-creating experience.
5D Artist believes that creating artwork can be fun and therapeutic, and the company promotes relaxation through the making of beautiful works of art. With their latest collection, they hope to help new craft makers find the visionary artist within themselves.
Contact Info:
Name: Benny Plaksin
Email: Send Email
Organization: 5D Artist
Address: 4080 Schiff Drive, Las Vegas, NV 89103, United States
Website: https://5dartist.com/
Source: NewsNetwork
Release ID: 88930291