Should You Buy Apple (AAPL) Stock This Summer?
May 29, 2019 at 13:42 PM EDT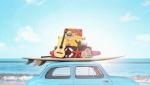 With U.S. stocks headed for their first loss in May since 2012, the next few months appear to be a tumultuous time for the market. But despite the trade war turmoil and flight to bonds, as the U.S. marks the unofficial beginning of the summer this week, there are still a handful of equities that...