Can Iran Sanctions Continue to Push Oil Prices Through the Roof?
May 24, 2019 at 10:31 AM EDT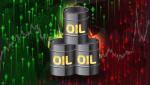 Last month, oil continued its serendipitous climb following U.S. President Donald Trump ending waivers on companies wishing to purchase Iranian oil without facing stiff sanctions. The companies affected most by the waivers were China, Greece, India, Italy, Japan, South Korea, Taiwan and Turkey....