New Independent release from one of the Bay Area's best Hip Hop Artist- DJ Free Leonard AKA The Broken Treaty Poet. Presented by Chuck D of Public Enemy.
Oakland, CA (PRUnderground) July 2nd, 2018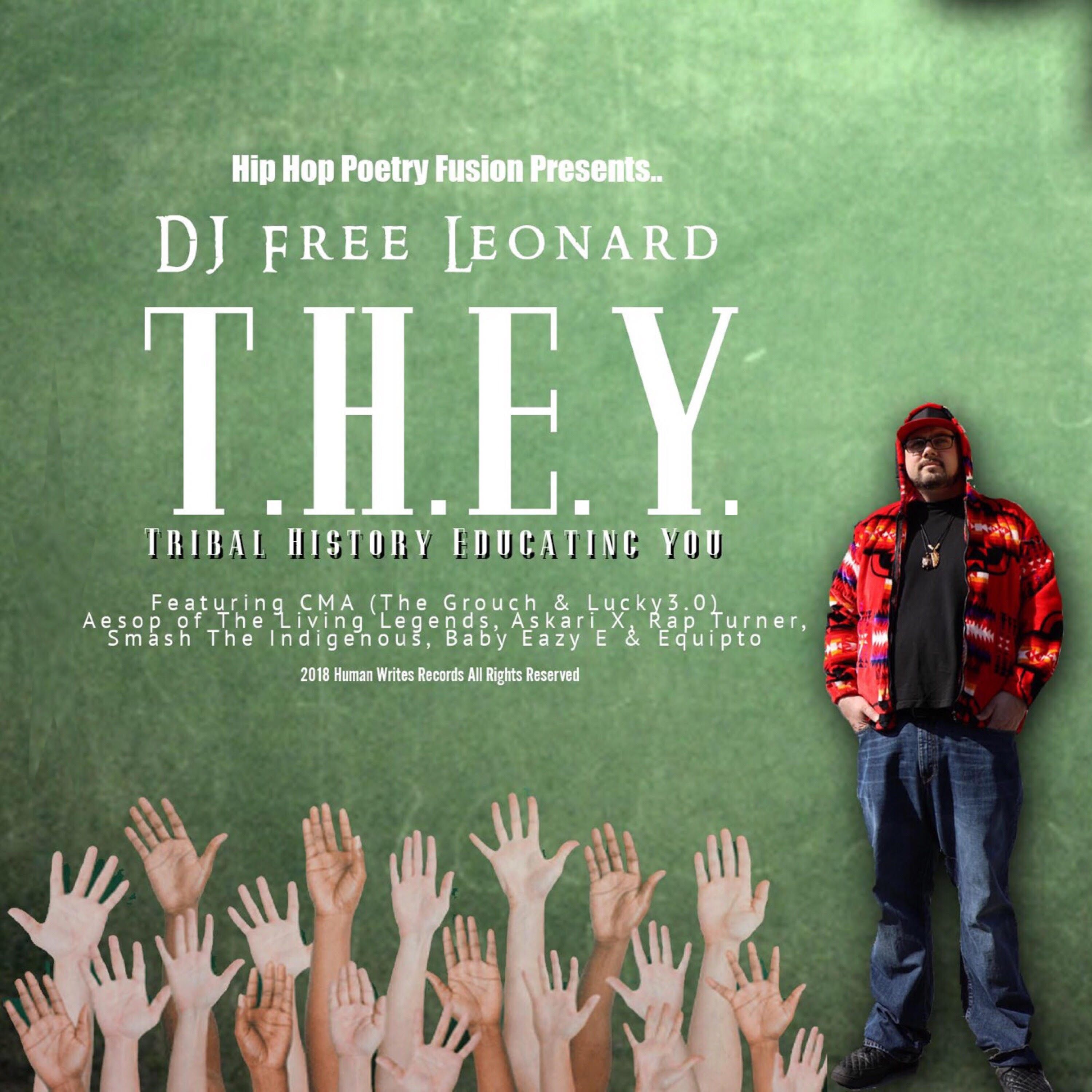 Chuck D Presents New Artist DJ Free Leonard Drops New EP: "T.H.E.Y."
Hip Hop Poetry Fusion announces a new release by DJ Free Leonard entitled – "T.H.E.Y. – Tribal History Educating You – which features The Grouch, Lucky3.0 & Aesop (all from the group Living Legends), Baby Eazy-E (the son of Eazy-E), Askari-X, Rap Turner, Smash The Indigenous and Equipto. This project is the latest of many from DJ Free Leonard, who in 2016 starting working creatively with Chuck D of Public Enemy.
"T.H.E.Y." is themed after DJ Free Leonard's spoken word performances and discussions in Bay Area classrooms on Indigenous History, Culture, Art and Politics.  "Using Hip Hop As A Tool For Liberation" is a phrase he wrote describing his amazing crafting of Indigenous terms and ideas with a very unique Spoken Word style and combined it with modern Hip Hop Production and well known MC's –  "I feel like Hip Hop can be utilized to educate about so many Injustices and in particular the atrocities going on against Indigenous People worldwide" said DJ Free Leonard.
DJ Free Leonard has released several project's since 2010 which including five albums – "Free Leonard Peltier: Hip Hop's Contribution To The Freedom Campaign", "Free Peltier, Free Em All! Documentary"- "DJ Free Leonard: A Struggle For Human Rights" – "DJ Free Leonard: Assimilate Or Eliminate" – "DJ Free Leonard: Electrify The Masses EP" – a book of poetry: "Broken Treaty Poet: Birthright Tribal Member", over 20 music videos, several which have been in rotation on First Nations Network- cable channel and numerous live performances including the Indigenous Sunrise Ceremony on Alcatraz Island in San Francisco (2013) & opening for Rakim (2015).
"T.H.E.Y." will be available on all digital outlets & CD starting July 3, 2018.
1st Single "Wise Words Spoken" Featuring CMA (The Grouch & Lucky3.0) Soundcloud Link: https://soundcloud.com/djfreeleonard/wise-words-spoken-featuring-cma-the-grouch-lucky30
For more information or to request interviews, please contact: David Gonzalez (510)359-7346
HumanWritesManagement@gmail.com www.HipHopPoetryFusion.com
Spotify: DJFreeLeonard Soundcloud: DJFreeLeonard Bandcamp: DJFreeLeonard Instagram: @DJFreeLeonard Twitter: @DJFreeLeonard
About Human Writes Records
Press Contact
Name: David Gonzalez

Phone: 510-359-7346

Website: www.HipHopPoetryFusion.com
Original Press Release.