AirTime is offering a $49.00 off-season tuneup with no trip charge. This off-season AC tune-up special saves homeowners the hassle, time and expense that comes with attempting to do all of this properly without the assistance of a heating and air conditioning system pro.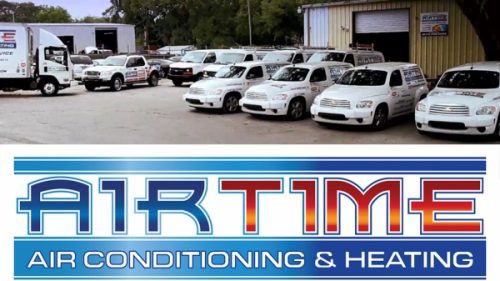 Valrico, United States - February 10, 2018 /PressCable/ —
AirTime Air Conditioning and Heating opened its doors in Tampa, FL back in 2011 and moved to its current location in Valrico, FL in 2013. Like all entrepreneurs, Reddy and Barbara Gonzalez, co-founders of AirTime, had a dream to use their skills to build a business for their family and take advantage of the opportunities Americans have to grow a business as big as one can dream. Today, six years later and under Mr. Gonzalez's leadership, AirTime has a fleet of vehicles manned by N.A.T.E and EPA certified HVAC repair technicians serving the six county region of West Central Florida made up of Hillsborough, Polk, Pinellas, Pasco, Manatee and Sarasota counties.
With a large full-time staff working out of its primary corporate location at 110 N Mulrennan Rd, Valrico, FL 33594, AirTime Air Conditioning and Heating dispatches its fleet of vehicles and AC repair technicians throughout the region 24/7 to serve customers with emergency ac repair needs, regular ac tune up and maintenance needs along with new HVAC system sales and installation services.
AirTime is also excited to announce that it is opening a new office location in New Port Richey, FL to better serve Pasco and Pinellas County residents. The New Port Richey office will be managed by Angel Bellinni. More details on this new office location will be coming soon
Authorized Dealer for Leading HVAC System Brands
AirTime Air Conditioning and Heating is an authorized dealer for all of the leading air conditioning brands including Carrier, Trane, Bryant, Lennox, York, Amana, and more. By offering a selection of top quality products for a variety of home air conditioning requirements and budgets, AirTime Air Conditioning and Heating has something for everyone. With AirTime Air Conditioning and Heating, you never have to compromise your needs or finances to get the best and most efficient system for your home.
Why Have Regular AC System Maintenance or AC Tune Ups?
Central Florida area (Tampa, Brandon, Valrico, Lithia, Riverview, Lakeland, Plant City, Sun City, Apollo Beach, Wesley Chapel, Clearwater, St Petersburg) homeowners who have not had their heating and air conditioning system serviced or tuned up in the last 6 months face a much higher risk for for costly AC system repairs which can be avoided with a few maintenance best practices. Certainly, hiring a certified and licensed HVAC company like AirTime Air Conditioning and Heating is highly recommended to ensure that your investment in your home's AC and heating system is maximized in terms of system efficiency and longevity.
Critical HVAC System Components To Service and Maintain to Prevent Emergency AC System Outages
The AC Filters
Experience shows that most homeowners fail to timely and properly replace their HVAC system filters and this is one of the leading causes of air conditioning repairs and system breakdowns. Dirty filters become clogged filters and this places stress on the entire system because it hinders normal airflow and reduce your AC system's efficiency significantly.
AC system airflow obstruction is one of the leading causes of emergency breakdowns on your AC system and can certainly lead to other damage as the clogged system is stressed while in use wearing down the entire system at a higher rate than normal. Don't wait for an emergency AC repair need, call today to get your HVAC system tuned up.
Cleaning the AC Unit, System Coils and Drain Lines
It is really important to keep the area around the outside unit clean and free from landscaping, brush and debris is an important part of regular maintenance. When our AirTime AC technician arrives at your home, this will be one of the first areas the HVAC technician will address. The HVAC technician will clean any/all debris around the unit as most outside units tend to collect debris and brush on a fairly regular basis. Keeping this area clean is an easy but often overlooked step but one that any good AC repair company will analyze quickly on first inspection.
During an AirTime AC System Maintenance call, we also inspect and clean the system coils and drain lines. Clean coils and drain lines will allow your unit to run efficient and will also make your home feel more comfortable. Not to mention, an efficient unit keeps your electric bill as low as possible. At AirTime, we highly recommend you have a professional AC repair company conduct a bi-annual maintenance and AC system tune up.
Hiring a Professional
AirTime Air Conditioning is offering a $49.00 off-season maintenance special with no trip charge. This off-season heating and air conditioning system tune-up special is intended to save the average homeowner the hassle, time and expense that comes with attempting to do all of this properly without the assistance of a heating and air conditioning system pro, or worse, ignoring it and face it likely breakdown come mid-summer when the heat index in Florida puts high demands on your entire AC system putting you in a higher probability of experiencing an emergency AC repair scenario which everyone wants to avoid. In the Florida summer, there is never a good or convenient time to have an emergency AC repair need.
Our technicians provide all types of emergency AC repair services for all makes and models of air conditioning systems. We respond quickly to service needs and come ready to solve problems and complete repairs in an efficient manner. Our AC repair technicians can also perform full installations of new AC system units.
Serving Residents in Multiple Locations
AirTime Air Conditioning and Heating serves residents throughout the West Central Florida region through its three primary locations including Tampa, Wesley Chapel, Brandon, Plant City, Lakeland, Valrico, Lithia, Riverview, Sun City Center, Apollo Beach, Ruskin, Bradenton, Lakewood Ranch, Sarasota, Saint Petersburg, Clearwater, New Port Richey and more. AirTime has three convenient locations with HVAC technicians ready to serve customers throughout the region. For location and contact information please see the AirTIme locations page at https://airtimeairconditioning.com/locations/
AirTime Air Conditioning and Heating
110 N Mulrennan Rd
Valrico, FL 33594-3446
Phone: (813) 501-6633
Contact Info:
Name: Lane Houk
Email: media@brandequation.com
Organization: AirTime Air Conditioning & Heating
Address: 110 N Mulrennan Rd, Valrico, FL 33594-3446, United States
Phone: +1-813-501-6633
For more information, please visit https://airtimeairconditioning.com
Source: PressCable
Release ID: 299285