2018 Global Entrepreneurship Index ranks 137 countries, identifies areas to address to stimulate startups
Washington, DC (PRUnderground) November 29th, 2017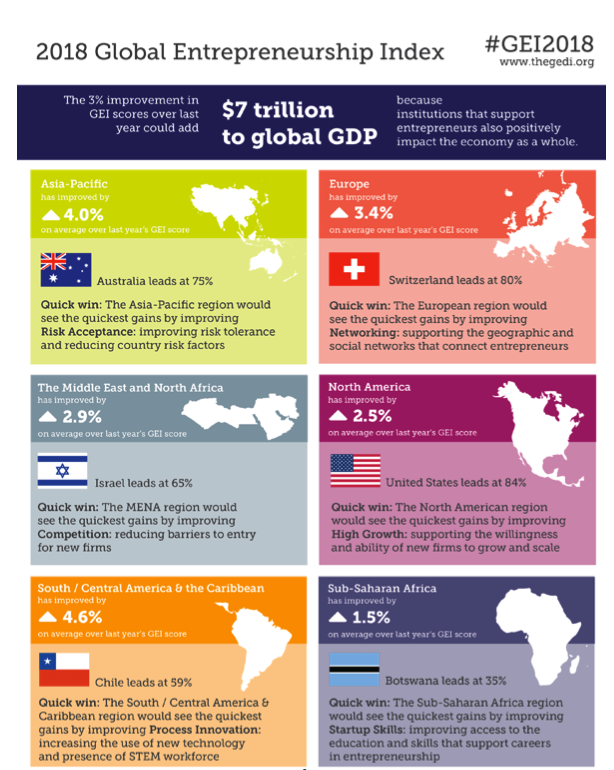 As the demand for data-driven research on how to strengthen entrepreneurship support programs increase, the 2018 Global Entrepreneurship Index, which evaluates the health of entrepreneurship in 137 countries, was unveiled at the Global Entrepreneurship Summit in Hyderabad, India, as part of a policy panel discussion.
The 2018 Global Entrepreneurship Index provides key information for policymakers and government leaders worldwide to strengthen their digital ecosystems and promote high-growth, high-impact entrepreneurship. The new report shows the United States remains the country with the most favorable conditions for entrepreneurs to start and scale new businesses – but with a slowly narrowing gap as other countries increase their support.
The authors estimate that the 3 percent improvement of scores globally over the last year could add upwards of $7 trillion to the global economy – as countries work to improve conditions that help entrepreneurs create new companies.
"In countries around the world we're seeing improvements in entrepreneurship ecosystems, most notably in their ability to create innovative products," said Zoltan Acs, co-author of the report and university professor at the Schar School of Policy and Government at George Mason University. "This is encouraging news, as the conditions that support entrepreneurs tend to have a positive impact across economies."
The top of the rankings were dominated by countries in the innovation-driven stage of development. The United States topped the rankings again this year, with a GEI score of 83.6 – which is a slight increase of its score of 83.4. It was followed by (in order): Switzerland (80.4), Canada (79.2), United Kingdom (77.8), Australia (75.5), Denmark (74.3), Iceland (74.2), Ireland (73.7), Sweden (73.1) and France (68.5). France moved into the top 10, jumping from 13th to 10th place in this year's rankings, knocking the Netherlands down to 11th place.
The United Kingdom enjoyed a jump in the rankings, moving from eighth in last year's report, to fourth in the 2018 standings, moving increase its score from  71.3 to 77.8. India (28.4) enjoyed the largest jump in the rankings last year, moving up 29 spots from 2016 to 2017, landing in 69th – and moving up one more spot in 2018 to 68th.
The GEI measures a country's entrepreneurial ecosystem by combining individual data such as opportunity recognition, startup skills and risk acceptance, with institutional measures, including urbanization, education and economic freedom. These measurements help distinguish self-employment and replicative entrepreneurship from the innovative, productive and rapidly growing entrepreneurial ventures that drive real economic growth.
The report was released by Global Entrepreneurship Network and the GEDI Institute so that findings from the Index can drive policy discussions at events around the world. The report is often released during Global Entrepreneurship Week to help facilitate those discussions, and was released as part of the Global Entrepreneurship Summit this year in Hyderabad, India.
"The promise of jobs, economic growth and the optimism and hope that entrepreneurs bring to government efforts to create opportunity and prosperity for their citizens, has generated an extraordinary increase in attention from all levels of government in empowering their entrepreneurial ecosystems," said Jonathan Ortmans, president of the Global Entrepreneurship Network. "The Global Entrepreneurship Index provides a tool, an evidence-based roadmap, for ecosystem builders and decision makers to strengthen their entrepreneurial communities."
Other interesting observations from the report include:
The big surprise is the rise of the United Kingdom to fourth place from eighth place last year, and both Bulgaria and Iran jumped 13 spots.
Three of the five Nordic countries, Denmark, Iceland, and Sweden, remained in the top ten,
Both Israel and Iran saw overall score improvements of more than four points from last year, and are among the top 10 biggest gains in score globally for the 2018 GEI.
About The GEDI Institute
The GEDI Institute is a research organization that advances knowledge on links between entrepreneurship, economic development and prosperity. The Institute was founded by world-leading entrepreneurship scholars from the George Mason University, University of Pécs and Imperial College London. The flagship project of the Institute is the Global Entrepreneurship Index, a breakthrough advance in measuring the quality and dynamics of entrepreneurship ecosystems at a national and regional level. The GEI methodology has been validated in rigorous academic peer reviews and has been widely reported in media, including in The Economist, The Wall Street Journal, Financial Times and Forbes.
About Global Entrepreneurship Network
The Global Entrepreneurship Network (GEN)  operates a platform of projects and programs in 170 countries aimed at making it easier for anyone, anywhere to start and scale a business. By fostering deeper cross border collaboration through initiatives engaging entrepreneurs, investors, researchers, policymakers and entrepreneurial support organizations, GEN works to fuel healthier start and scale ecosystems that create jobs, educate individuals, accelerate innovation and strengthen economic growth. For details on the programs and initiatives that make up GEN, visit genglobal.org and follow @unleashingideas on Twitter.
Press Contact
Name: Mark Marich

Phone: 202-370-6934

Email: mark@genglobal.org

Website: http://genglobal.org
Original article: New Index Shows Increase in Entrepreneurship Could Add $7 Trillion to Global Economy.