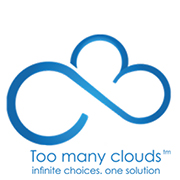 ParkMyCloud today announced a partnership with cloud and disruptive technology distributor Too Many Clouds, based in the United Kingdom. The technology distributor will spearhead ParkMyCloud's growth in the UK, the Republic of Ireland and Australia.
Too Many Clouds focuses on helping IT organizations better procure, contract, and budget for IT expenditure in a way that captures the efficiencies of cloud computing at a low cost. With ParkMyCloud, their customers will be able to optimize their Amazon Web Services (AWS) spending with automated start/stop times for non-production instances, allowing them to reduce AWS bills by up to 60%.
"Too Many Clouds is exactly the kind of organization we were looking to partner with," said Jay Chapel, CEO and Co-Founder of ParkMyCloud. "Their expertise and reach is an excellent addition to ParkMyCloud's growing presence throughout the globe."
"We believe in delivering our resellers, and by extension their customers, best-in-class cloud solutions," Jazz Padda, Managing Director of Too Many Clouds. "We do this as the go-to distributor for all Pan-EMEA and APAC resellers that want to provide innovative solutions and 'disruptive technology' to their customers. ParkMyCloud help us achieve that "disruptive" status in AWS whilst saving our customers money. With the technology sector forever evolving, IT Resellers and MSPs have to continuingly adapt – which we assist with by providing the training, along with everything else, in order to enable them to provide the current tech trends."
About Too Many Clouds
Too Many Clouds is a leading Cloud and Disruptive tech distributor headquartered in the UK. At its core, Too Many Clouds provides the reseller channel with a true value driven distribution model. Seen as an innovative partner in the distribution scene throughout Europe and Australia.
Too Many Clouds is the answer to the exponential growth of Cloud Service Providers, many of whom resell third party services but without the necessary skillset to deliver them. Our team have real world experience in our specialist solution areas to assist reseller partners provide Cloud and Disruptive technology solutions.
+44 (0)208 1234 837
About ParkMyCloud
ParkMyCloud is a simple, single-purpose SaaS tool that enables users to automatically schedule on/off times for their idle non-production cloud computing servers (also known as "parking"), so they pay only for the time they actually use and avoid wasted spending.  Customers, which include McDonald's, Sage Software, Neustar, Avid, Wolters Kluwer and ZestFinance, save 60% or more on non-production spend. For more information, visit www.parkmycloud.com.
Press Contact
Katy Stalcup
(571) 334-3291
About ParkMyCloud
ParkMyCloud is a cost-effective, lightweight SaaS app that reduces AWS EC2 costs by 20% or more, in just 15 minutes. ParkMyCloud enables AWS customers to schedule automatic on/off times (also known as "parking") for their idle cloud computing services, so they pay only for the AWS resources they're actually using. Enterprise customers include Sage Software, Neustar, Avid, Wolters Kluwer, Findly and ZestFinance. For more information, visit www.parkmycloud.com.
Read full release at PRUnderground.com: ParkMyCloud Partners with Distributor "Too Many Clouds" to Bring Cloud Cost Optimization to the UK.