Amid yet another dreary earnings report, Oracle Corp. (NYSE: ORCL) announced that iconic founder and CEO Larry Ellison would surrender his chief executive title after 37 years.
The one-two punch dropped Oracle stock 4% on Friday.
But for ORCL investors, Ellison's title change, or even another weak earnings report, wasn't the biggest concern.
ORACLE

NYSE: ORCL

Sep 22 12:45 PM

loading chart...

Price: 39.33 | Ch: -0.47 (-1.2%)
No, the biggest concern is the ill-advised decision to appoint both co-presidents Safra Catz and Mark Hurd to the CEO position, creating a two-headed beast that will only make it harder for Redwood City, Calif.-based Oracle to calibrate its cloud computing strategy to be more competitive.
"It's a bad mistake," UBS analyst Brent Thill told Bloomberg. "If you have two people in the room, one is going to dominate. It's best to have an organization run by one, because there's less confusion. I don't think it's a good business strategy."
But the reality could be worse. Larry Ellison will still be very much involved in the decision making at Oracle. Not only did the Oracle board elect him as executive chairman, but he's also taking the title of "Chief Technology Officer," much as Bill Gates became "Chief Software Architect" at Microsoft Corp. (Nasdaq: MSFT) when he handed over the CEO title to Steve Ballmer.
This kind of muddled leadership structure is a recipe for trouble, and in his statement Ellison sounded like he was trying to head off the inevitable criticism.
ORCL's Two-CEO Plan Only Looks Like a Minor Change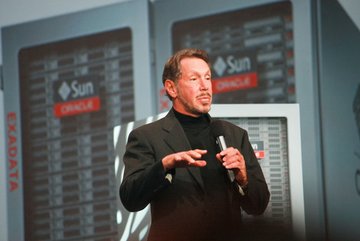 Ellison noted that the three of them had been "working well together for the last several years" and that the only difference would be that Hurd and Catz will report directly to the board rather than to him.
But conferring the title of CEO on two people has rarely worked well. Just look at the BlackBerry Ltd. (Nasdaq: BBRY) CEO duo of Jim Balsillie and Mike Lazaridis. Or last year when SAP had to move co-CEO Jim Hagemann Snabe to the company's board so Bill McDermott could remain as sole CEO.
"It's inherently unstable, you create a two-headed monster," Jeffrey Sonnenfeld, a business professor at Yale University, told Bloomberg. "There's lack of clarity. When they've tried it at many places it's been inelegant."
And right now, Oracle doesn't need to be creating unnecessary complications, as yesterday's earnings demonstrate.
The business software and hardware provider reported earnings of $0.62 a share, missing Wall Street expectations of $0.64, the company's sixth miss in the past eight quarters.
And growth has turned sluggish; sales haven't risen by more than 4% in a quarter since mid-2011.
That's kept ORCL stock in so-so territory, more or less matching the performance of the Standard & Poor's 500 index over the past five years.
All of which begs the question: Why did Larry Ellison pick now to change Oracle's leadership structure, and why two CEOs?
Oracle CEO Larry Ellison's Move Wasn't Part of a Long-Range Plan
One thing we can take away from the sudden announcement that Ellison is stepping down as CEO is that it was a very recent decision and doesn't seem to be part of any well-considered transition plan.
"This was not predicted by anybody. This is not a planned succession. This is a disruption," Sonnenfeld told CNBC.
Also suspicious is the timing of the announcement. Oracle seemed only too happy to piggyback this bombshell onto its earnings release, which also happened to fall on the evening before the much-hyped Alibaba IPO.
Was Oracle hoping that the financial press would be so distracted by Alibaba that it would ignore their news? It sure looks that way.
And then there's the question of what precipitated the change now.
Oracle had nothing to say about that, but it could well have had to do with the company's ailing cloud strategy, and the fact that the company has not executed even though Ellison knew the cloud would be huge as far back as the early 1990s.
"Larry is frustrated," Sonnenfeld told CNBC. "Salesforce.com [is] stealing some of their best talent away - they've had a mass exodus of their top salesforce talent.... almost two dozen people leaving in the last few weeks. And it's over cloud issues, and they're leaving angry."
It may seem odd to question the judgment of a Silicon Valley legend like Larry Ellison. But creating two CEOs is not one of his better decisions, and Oracle stock will suffer for it.
"It's going to be a sticky transition," Thill said. "They were on a paved highway, they went off the highway onto a gravel road, and now they're trying to find their way to the new road."
Follow me on Twitter @DavidGZeiler.
UP NEXT: Oracle is still trying to get its mojo back, but another tech titan turned laggard - Microsoft - finally is starting to show signs of life under new CEO Satya Nadella. But even with Microsoft stock already up 28% since February, the comeback has only just begun...
Related Articles:
Tags:
CEO Larry Ellison
,
Larry Ellison
,
NYSE: ORCL
,
Oracle CEO Larry Ellison
,
Oracle stock
,
orcl stock
,
ORCL Stock News
The post Oracle Stock Falls 4% as CEO Larry Ellison Creates Two-Headed Monster (ORCL) appeared first on Money Morning - Only the News You Can Profit From.