This week is one of the busiest for second-quarter earnings.
Among companies in the Standard & Poor's 500 Index, 148 post results this week, according to FactSet. A couple of key silver stock earnings are among reports to watch today (Wednesday) and tomorrow, and another is on tap to release results next week.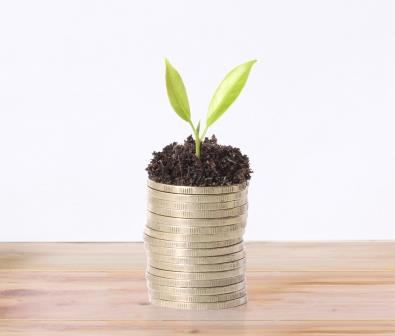 Wednesday also begins a flood of U.S. economic data that will likely impact silver prices.
The strong U.S. gross domestic product (GDP) report today pressured precious metals, with silver slipping $0.03 to $20.64 an ounce in morning trading. The U.S. Department of Commerce reported that GDP expanded at a much better-than-expected 4%. That not only handily beat projections of a 3% increase, it was also up sharply from the -2.9% read in Q1.
Silver prices are also likely see some action with the results of the two-day Federal Reserve Open Market Committee (FOMC) meeting that came out Wednesday afternoon. The Fed tapered its bond-buying program by another $10 billion per month.
Following are four silver stocks that could move on earning reports alone. A common theme among the bunch will be cost containment efforts. The four will likely tout successes and strides made coming off a difficult 2013 that left silver prices down 36%.
4 Silver Stocks to Watch on Earnings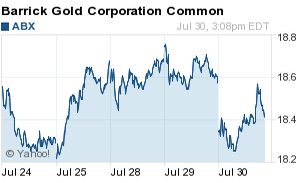 No. 1: Barrick Gold Corp. (NYSE: ABX) is expected to post Q2 earnings per share (EPS) of $0.14, down from EPS of $0.66 in the same quarter a year ago, after Wednesday's close. The Toronto, Ontario-based company produces gold and copper, and is also involved in precious metal (silver) exploration and mine developments. Whisper numbers have ABX reporting EPS of $0.18. Of particular interest in the report will be updates on management changes. The company eliminated the chief executive officer (CEO) role in early July and replaced it with two co-presidents. The move followed a tumultuous year for ABX in which it took billions in write-downs, stopped work at its massive Pascua-Lama project in South America, and restructured its business with the sale of several non-core operations. Several research firms have recently commented on the stock. HSBC analysts downgraded ABX to an "Underweight" from "Neutral" in a research note Friday. Credit Suisse, meanwhile, raised its price target on ABX from $21 to $22 on July 17. Raymond James also boosted its price target earlier this month from $18.50 to $19.50. The consensus rating on ABX is "Hold" with a median price target of $20.59.
No. 2: Agnico Eagle Mines Ltd. (NYSE: AEM) is scheduled to report Q2 earnings after Wednesday's closing bell. The Canadian-headquartered company is engaged in the exploration and production of silver and other metals in countries away from political strife, such as Canada, Finland, and Mexico. The consensus EPS for the quarter is $0.29, up sharply from EPS of $0.01 in the same quarter a year earlier. Agnico's April purchase of Osisko Mining, in a joint bid with Yamana Gold (NYSE: AUY), is expected to provide 20% growth through 2016. Following the acquisition, TD Securities upgraded AEM to "Buy" from "Hold" and hiked its priced target to $42 from $31. "The company is generating free cash flow, its projects are in relatively safe jurisdictions, its balance sheet is sound, and production is expected to grow over the next three years," the firm wrote.
No. 3: Hecla Mining Co. (NYSE: HL) is set to post Q2 results Thursday before the open. The company discovers, produces, and markets precious metals worldwide. Founded in 1891 and based in Coeur d'Alene, Idaho, Hecla also offers unrefined gold and silver bullion to precious metal traders. The consensus forecast has Hecla reporting EPS of $0.0, up from a -$0.03 loss in the same quarter a year ago. The company could surprise to the upside. Preliminary Q2 2014 production results show silver production increased 14% and gold production increased 96% year over year. "During the second quarter, production grew for all our metals over the prior year period, as we realized the benefits of the Casa Berardi acquisition and a fully operational Lucky Friday," said CEO Phillips S. Baker, Jr. "The amount of zinc and lead we produce as a by-product differentiates Hecla from its peers, and significantly improves the economics of our business, particularly in a time of rising metals prices like we recently experienced. The combination of growing production and higher metals prices with approximately $222 million in cash at quarter end, inclusive of warrant proceeds, puts Hecla in a strong position entering the third quarter," Baker added.
No. 4: Coeur Mining Inc. (NYSE: CDE) is scheduled to report second-quarter earnings after the close next Wednesday. CDE, founded in 1928 and headquartered in Chicago, is engaged in silver and gold mining operations worldwide. The consensus is for CDE to report EPS at a loss of $0.32, compared to a $0.36 per loss in the same quarter a year ago. Sentiment is bearish heading into the earnings report. A large trader positioned for a potential drop in CDE last week, according to data from optionMONSTER. Some 8,122 January 8 puts were bought in one print for $0.85. The bearish trade was 10 times Coeur's total daily option average for the last month.
Now: Thinking of buying Amazon stock? Read this first. There's a giant threat that's about to challenge Amazon's dominance...
Tags:
$50 silver
,
$ABX
,
AEM
,
CDE
,
earnings calendar
,
earnings reports
,
HL
,
S&P 500 today
,
silver stock earnings
,
silver stocks
The post Silver Stock Earnings to Watch: ABX, AEM, HL, CDE appeared first on Money Morning - Only the News You Can Profit From.