Let's call them the Bitcoin stock losers - payment processing companies that stand to have their business models severely disrupted, if not wiped out, by the widespread adoption of Bitcoin.
While still in its infancy, Bitcoin has several key advantages over other forms of payment processing.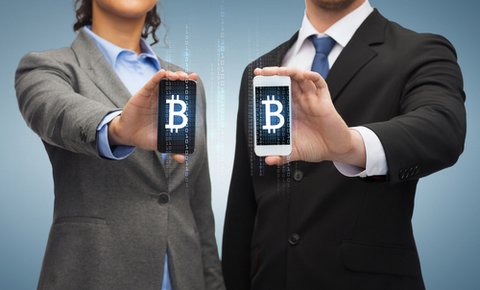 As today's Bitcoin startups make the digital currency easier to use, those advantages will become more apparent to the general public, setting off a mass transition away from traditional forms of payment such as credit cards.
While this may be hard to imagine right now, the Bitcoin ecosystem is already established and growing. In three to five years, it will reach a tipping point where Bitcoin will be accepted in most places and most people will have seamless ways to use it, primarily on their smartphones.
That's when Bitcoin's threat to the $48 billion in annual credit card fees and $37 billion in international money transmission fees will hit home.
You'd think the Bitcoin stock losers - the credit card companies, big banks, and international payment companies - would be worried.
Not at all.
In fact, the companies most threatened by Bitcoin, the credit card industry, haven't even bothered to list the digital currency as a risk in U.S. Securities and Exchange Commission (SEC) filings.
"I'm a bit skeptical," David Nelms, the chief executive officer of Discover Financial Services (NYSE: DFS), told Bloomberg News. "[Other things pose] a lot more potential threats or opportunities than Bitcoin."
Nelms is not alone. The heads of American Express Co. (NYSE: AXP), Visa Inc. (NYSE: V) and MasterCard Inc. (NYSE: MA) have all been dismissive regarding any adverse impact the growth of Bitcoin might have on their businesses.
For that matter, so have the executives of several big banks as well as the international payment companies.
"Today, people speculate on the potential," Alex Hoffmann, executive vice president of global product management and emerging channels at MoneyGram International Inc. (NYSE: MGI), told Bloomberg News. "But today you do not have it."
Here's why these executives are dead wrong - and how their inability to see what's coming is going to pummel their stocks.
How the Bitcoin Stock Losers Will Be Ruined
Among the executives of payment processing companies disregarding the Bitcoin threat, a common ploy is to point to a perceived weakness as a reason the digital currency doesn't threaten their business.
What they don't seem to realize is that each of these issues can be fixed, and is in the process of being fixed, by a blossoming collection of Bitcoin startups.
Visa CEO Charlie Scharf said Bitcoin is "complex," implying it's hard for ordinary people to use.
This is somewhat true now, but is changing quickly. There are already several Bitcoin wallet apps for smartphones available. It's also no coincidence that the Bitcoin startup that has raised the most venture capital so far ($32.7 million) is BitPay - a payment processor company.
Within the next year or two, paying with Bitcoin will be at least as easy as using a credit card.
Some point to Bitcoin price volatility as a problem, but Bitcoin payment processors serving merchants already have mitigated that by converting the transactions to dollars immediately at the time of the sale.
Other executives scoffed at Bitcoin's relatively small footprint. Daily transaction volume in Bitcoin is only about $50 million, dwarfed by the $3.7 trillion processed by giants MasterCard and Visa.
But one year ago Bitcoin transaction volume was only about $7 million a day. That's a seven-fold increase - in just one year. In a few years, as the ecosystem grows, the daily transaction volume will be in the billions.
And several executives laughably claimed their systems were more secure and trustworthy than anything based on Bitcoin, which isn't even true now. Have they already forgotten the massive credit card data breach at Target Corp. (NYSE: TGT) last year?
While bitcoins have been lost and stolen from exchanges like Mt. Gox, the cause was not a flaw in the Bitcoin protocol but weak systems and bad habits (like not keeping most of the bitcoins offline in "cold storage").
As a payment mechanism, Bitcoin is far superior to credit cards.
Each transaction only contains an address (a unique string of characters) for the sender, an address for the recipient, and the amount of Bitcoin being transferred between them.
The address can only successfully send Bitcoin if it has access to the private key associated with a person's Bitcoin wallet. This private key is never sent as part of the transaction, however.
But just as importantly, using Bitcoin instead of a credit card also means that no personal data is transmitted or stored. That leaves potential data thieves empty-handed save for the Bitcoin addresses, which are useless without the private keys.
Yet there's one more reason that will drive people to use Bitcoin over other payment systems more than any other...
Merchants and Customers Save on Fees with Bitcoin
Costs drive behavior in the business world, and Bitcoin's greatest advantage over legacy payment processors is that it is far cheaper.
The fees that credit card companies charge, in concert with the banks that issue the cards, vary, but typically range between 2% and 3% of each transaction. Compare that to the 1% fee that Coinbase charges merchants to process payments made in Bitcoin.
That's one reason why merchants like Overstock.com Inc. (Nasdaq: OSTK) started accepting Bitcoin.
Imagine what will happen to the Bitcoin stock losers when the digital currency goes mainstream over the next few years - a decade at most. Those billions in annual fees will start to decline. It will start slowly, but will suddenly accelerate as Bitcoin usage becomes commonplace.
That's when the stocks of the credit card companies will crater, like BlackBerry Ltd. (Nasdaq: BBRY) did in 2011 after smartphones swallowed up its market share.
The banks that issue the cards will also take a hit, though not as badly. That would include such big names as JPMorgan Chase & Co. (NYSE: JPM), Bank of America Corp. (NYSE: BAC), and Citigroup Inc. (NYSE: C).
And because Bitcoin can easily be converted to various world currencies in addition to moving money cheaply, it is also likely to steal business from international payment companies like MoneyGram and Western Union Co. (NYSE: WU).
It will take time, for sure, but the longer the Bitcoin stock losers dismiss the threat, the more difficult it will be for them to cope with it when it becomes too big to ignore.
Tomorrow: The Bitcoin stock winners.
Up Next: One of the surest signs that the Bitcoin economy is gaining traction is the speed at which venture capital is pouring into Bitcoin startups. Here's what venture capitalists are seeing that has them so excited...
Related Articles:
Tags:
bitcoin
,
bitcoin stock
,
bitcoin stocks
The post Bitcoin Stock Losers That Will Get Crushed by the Digital Currency appeared first on Money Morning - Only the News You Can Profit From.