What stands out most from the Janet Yellen testimony Thursday to the Senate Banking Committee is that her remarks mirrored comments made on Feb. 11 in her first monetary policy testimony to a House panel.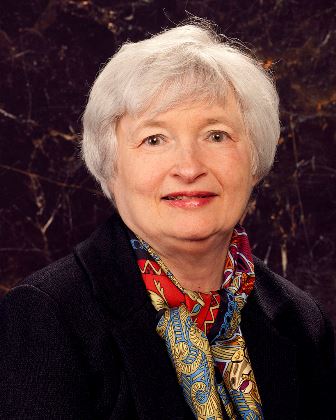 Speaking on Capitol Hill about the Semiannual Monetary Report, Yellen repeated that the central bank is likely to maintain its approach of progressively trimming asset purchases. The taper will continue even as policy makers monitor data to determine if the recent spate of soft economy data is temporary or something more serious.
In prepared remarks, the new central bank chair said the Fed "will likely reduce the pace of asset purchases in further measured steps at future meetings."
When pressed on the subject of the Fed's willingness to alter its course, Yellen did say the bond purchases "are not on a preset course."
"If there's a significant change in the outlook," Yellen said, "certainly we would be open to reconsider" the strategy.
Talking off-script, Yellen noted that harsh winter weather is likely the culprit behind some recent reports that hint of weakness in the U.S. economic recovery. Since her Humphrey Hawkins House testimony on Feb. 11, lackluster data from the retail, manufacturing, and home construction sectors all suggest the economy is slowing.
"A number of data releases have pointed to softer spending than many analysts had expected," Yellen said. "Part of that softness may reflect adverse weather conditions. But at this point it is difficult to discern exactly how much."
Weather was the reason why Thursday's testimony was delayed two weeks. Originally scheduled for Feb. 13, a snowstorm caused the postponement and unusual two-week gap between her appearances before the two committees that oversee the U.S. central bank.
Following are highlights from Yellen's semiannual report on the economy.
5 Key Takeaways from Today's Janet Yellen Testimony
Yellen reiterated the Fed's promise to keep the benchmark interest rate at record low levels as long as unemployment stays above 6.5% and the outlook for inflation doesn't exceed 2.5%.
Cutting the interest rate (presently at 0.25%) the Fed pays banks on reserve at the central bank isn't likely to ignite lending. "Lowering that rate... would have very limited effect on lending," Yellen commented. She added it could disrupt money market activities.
Noting the recovery in the labor market is "far from complete," Yellen said "the unemployment rate is not a sufficient statistic for the state of the labor market. There is no hard and fast rule about what unemployment rate constitutes full employment, and we will need to consider a broad range of indicators."
The Fed Chair is wary about the end of too-big-to-fail. "We might not know for sure if it's ended until the next crisis," Yellen said.
Yellen said the Fed doesn't have a position in regulating Bitcoin. However, she does back Congress probing the workings of the crypto-currency. "It's not so easy to regulate Bitcoin," Yellen acknowledged.
Market Reaction to Yellen
In striking a familiar tone and "doing no harm," markets moved higher following Yellen's testimony.
After little movement in the morning session, stocks moved solidly higher midday.
Just before 2 p.m., the Dow Jones Industrial Average jumped 63.87 points, or 0.39%, to 16,262.28. The S&P 500 added 9.7 points, or 0.49%, at 1,854.23. The Nasdaq gained 29.16, or 0.68%, to 4,321.22.
Next: The Chinese yuan is going international. Here's why you'll want to stay ahead of this massive currency shift...
Related Articles:
Tags:
Fed chair
,
Fed Chair 2014
,
fed meeting
,
fed meeting today
,
FOMC Meeting
,
fomc meeting 2014
,
Janet Yellen
,
janet yellen testimony
,
Senate Banking Committee
,
The Fed
,
Yellen testimony
The post Janet Yellen Testimony: Key Takeaways as Fed Stays the Course appeared first on Money Morning - Only the News You Can Profit From.