People are viewing the end of stimulus as a sunset. "My, what a wonderful day we've had," they say.
What they should be doing is investing for tomorrow's dawn - the turmoil we're seeing now as part of Yellen's arrival is actually par for the course.
It's also a great time to lock your sights on four companies that will lead the way when the smoke clears...
The Federal Reserve Transition Is Creating Bargains
Bloomberg data, for example, shows that U.S. markets have fallen an average of 2.6% for the three months immediately following a Fed handover. We're down 3.6% (as of last Friday's close) from the S&P 500 peak set on Jan. 15 of 1,848.33, so it would appear that the pullback simply began ahead of time.
When Paul Volker took over in August of 1979, the markets dropped 4.6%. That was nothing compared to the 26.5% wallop they experienced in August of 1987 when Alan Greenspan took office, according to USA Today.
Many investors are worried that things will go from bad to worse because of the taper from $85 billion a month to $75 billion a month and now down to $65 billion a month...
I can't say I disagree, at least not in principle anyway. But, eventually this will all blow over.
It won't be pretty, and what happens in the interim will undoubtedly test your patience. But it will blow over. Practically speaking, the Fed has succeeded in doing something this time around that has never been done in the history of mankind in that they've inflated everything.
What most people don't realize is that the markets have a funny way of adapting to stress. They also have a funny way of showing what happens when they do.
Most investors are surprised to learn that the vast majority of the time, turmoil like we're experiencing at the moment actually results in new liquidity and positive - as in higher - prices. There's clearly an upward bias at work.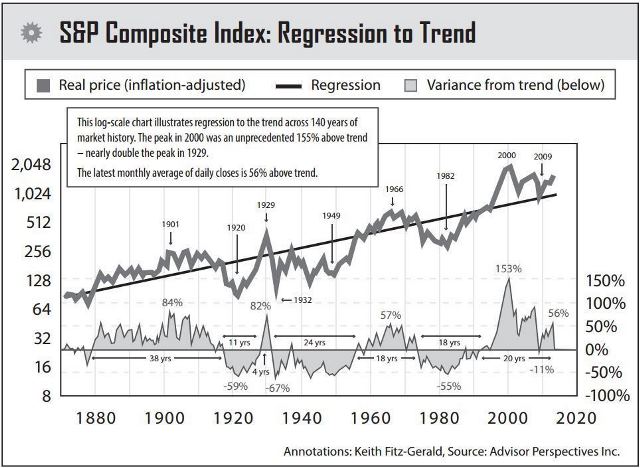 Many investors find this hard to accept, even when looking right at the data. I know - I'm one of 'em. But at the end of the day, the data is the data.
To me this is a lot like being told to eat your broccoli because it's good for you - you can't see the immediate benefits even though you know research supports the assertion.
For instance, FactSet/Piper Jaffray data shows that the S&P 500 has returned an average of 5.9%, with some 70% of equities in the benchmark index reflecting higher prices 12 months after a Fed handover.

Personally, I think that's conservative.
These Are the Markets for the

Next

140 Years
My expectations are for 8% to 12% growth this time around. Despite the litany of more cautious earnings statements we've seen so far this earnings season, companies continue to boost profitability. Generally speaking, they're cash flush and increasingly competitive.
As I shared with Money Map Report subscribers Monday, U.S. capital spending is going to increase by as much as 6.7%, according to UBS AG, which syncs with my expectations for 5% to 8% and spending north of the $2 trillion we saw in 2013.
It's not by coincidence that these companies are sitting on record levels of cash and short-term investments - some $3.6 trillion, according to Bloomberg. Nor is it random that 79% of the S&P 500 companies already reporting Q4 earnings have beaten estimates.
That said, there's no magic pill. I don't agree with the rosy 3% GDP growth that Moody's Chief Economist Mark Zindi has said he sees coming. Nor do I think we're going to see the robust job growth that many economists see coming.
I simply think the corporate environment has a better handle on the current "recovery" than the Fed does. So I want to prepare for that even if it means we have to endure the current whipsaw-like trading to do it.
In that sense, we want - as hockey legend Wayne Gretzky said and Steven Jobs loved to reference - to skate not where the puck is but where it will be.
To me that means thinking about three things right now: growth, efficiency, and cash returns.
Growth is pretty straightforward, and simple demographics make a very convincing argument if you've got the right perspective.
For example, China and India will have a combined population of more than 3 billion people in 30 years or less. The United States will max out at 400 million or so. So despite concerns about markets like China, Africa, and South America, your money has to be there if you want to ride the trend.
Only 11 years ago the BRICs made up approximately 5% of global output. Now they're pushing above 20%. Powered by billions of consumers who want what we have, this number is only going to grow.
My Favorites for Leveraging Growth... and Dividends
ABB Ltd (NYSE: ABB) and United Technologies Corporation (NYSE: UTX) are great examples of the kinds of plays I favor for this scenario. They're global concerns providing services and products that are squarely in the path of trillions of dollars in spending.
Efficiency is closely related.
I believe that the iShares Emerging Markets Dividend ETF (NYSE Arca: DVYE) and funds like it are a great buy right now and getting better by the day.
It's got a little of everything, so it's a very efficient way to invest. This ETF is also dividend focused and, consequently, chock full of companies with real revenue in Asia and South America among other global regions. That's always a plus.
Speaking of income, I cannot emphasize how important cash is.
People can debate whether or not things are expensive all they want. They can try to time the markets - always a bad idea - or even try to read tea leaves for all I care.
Contrary to what the prevailing "wisdom" is, the Fed's taper will not unfairly punish dividend stocks. In fact, I believe that the opposite is true.
Dividend-paying stocks have always been markedly more stable than their non-dividend-paying brethren. More importantly, they've shown that they really are worth the valuation assigned to them.
All dividends are not the same, however. The key is not the payout rate or even the percent yield.
The best companies are dividend "growers," meaning they are constantly increasing their dividends. It's in your interest to acquire them because you benefit not only from the cold hard cash paid out from time to time, but also from the growth in your cash flow. Hold it long enough and the dividends you receive could actually be more than the cash you invested initially.
American States Water Co. (NYSE: AWR) is one of the best examples I can think of. Its current payout of 2.88% may not seem like much when compared to the likes of a Kinder Morgan Energy Partners LP (NYSE: KPM) at 6.5%, but when you consider that AWR has increased its dividend for the last 59 years, you begin to understand why this is pivotal to building your wealth, especially now.
So bring it on, Janet... the markets have seen this before, and our wallets will see the profits again... and probably sooner than most people realize.
Tags:
Fed
,
fed strategy
,
Federal Reserve
,
Federal Reserve System
,
federal reserve system 2014
,
federal reserve system members
,
federal reserve system today
,
making investors rich
,
The Fed
,
the fed 2014
,
the fed today
,
the Federal Reserve
The post This Has Been Making Investors Rich for 140 Years appeared first on Money Morning - Only the News You Can Profit From.